ARRIVAL
→
DEPARTURE
2
Adults
-
0
Children
In case you would like to book more that one room please fill in all the details HERE. We will promptly send you the reservation offer or confirmation.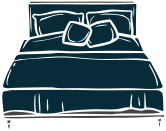 Cozy rooms &
regional breakfast
Bar & living room
'Auszeit Lounge' Community kitchen &
self service area Children's playroom
'Kinderstube' The Schider – Bad Gastein
The unmistakable charm of the original Villa Dr. Schider worked out and soft luxury unobtrusively embedded.
Cozy lounge and bar with regional specials and an excellent selection. The best of the region for breakfast. Community kitchen – self-catering area in the cozy living room with cooking area.
Relax in the 'Sauna Weitblick' and our 'Auszeit Lounge'.
Play area for the little ones.
With the best views of the Gastein mountains, right next to the Kaiser Wilhelm Promenade and only a 5-minute charming walk to the town center. You can take the bus comfortably, 1 minute from the hotel and 6 minutes to the gondola.
The area – unique and dreamlike – speaks for itself.
Relaxing and healing.
Information
about your stay
THE SCHIDER
The rooms
Staying in the 'Little Fine One' to the 'Family Room' with its own bedroom. Most rooms have a balcony and a wonderful view. A shower/WC, hairdryer and small fridge are also available.
Bar & Auszeit Lounge
Our cozy Auszeit Lounge with the breathtaking view is open round the clock, in the evening you are welcome to visit our Bar. Have a good glass of wine, accompanied by a nice conversation or just relax and enjoy the moment.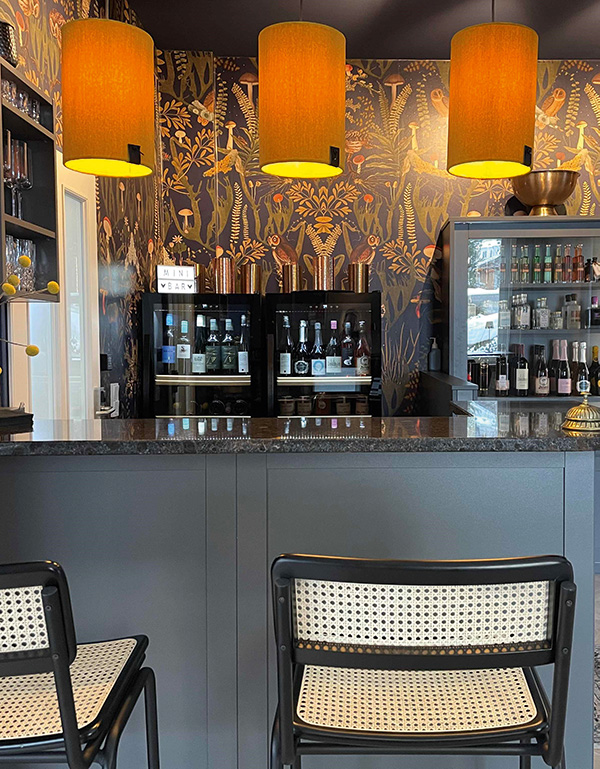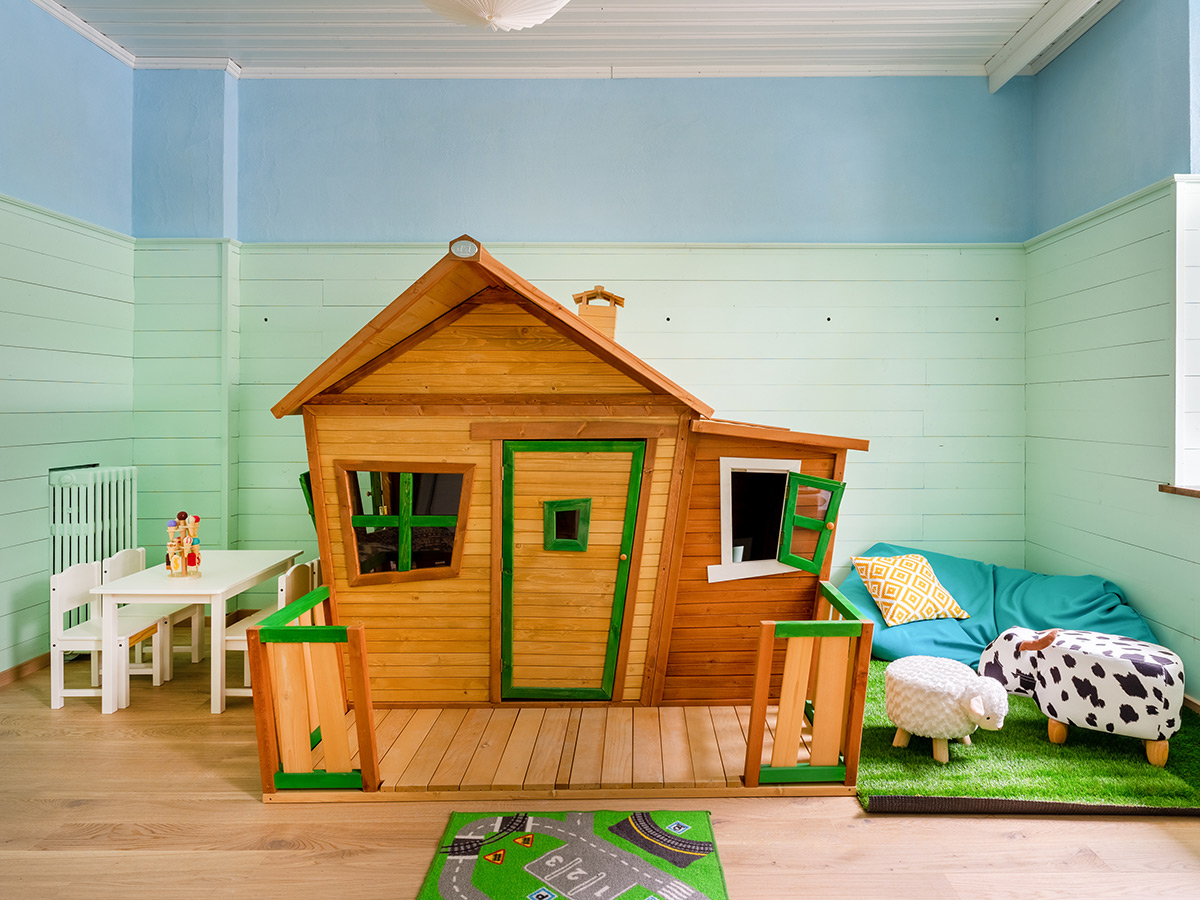 Children's Room
Our indoor children's play area on the ground floor is available to your kids daily from 9 am to 9 pm. Paint, do handicrafts, play, laugh!

Our playground with trampoline and a cozy sitting area with the breathtaking view over the Gastein valley is at any time available to you.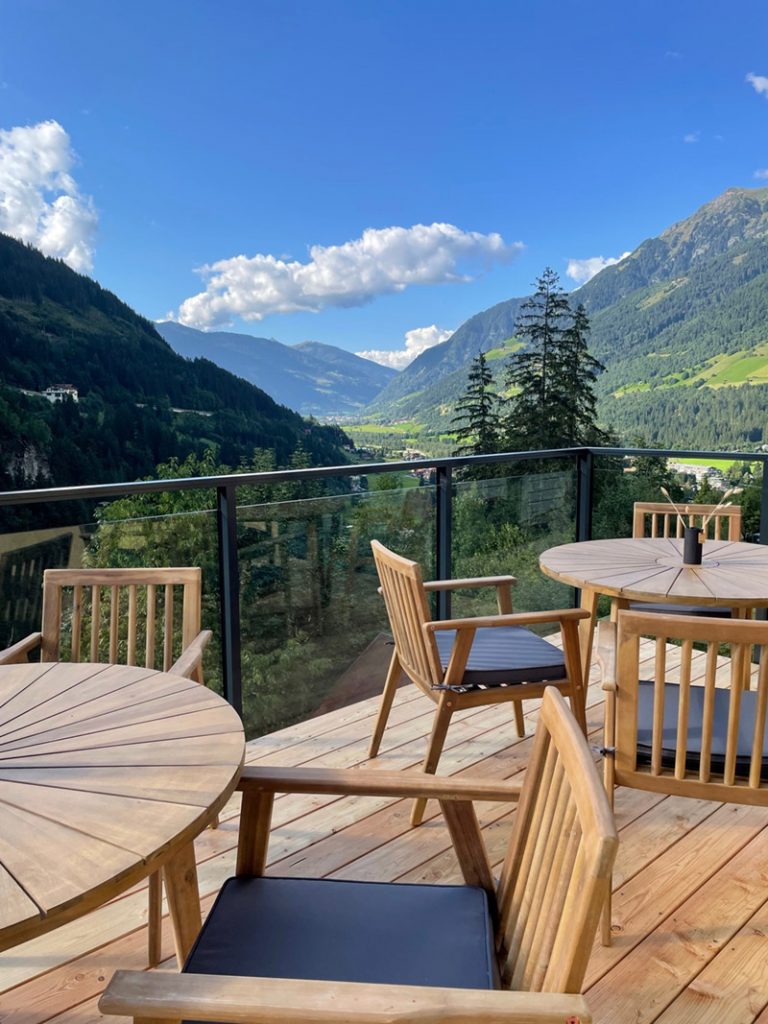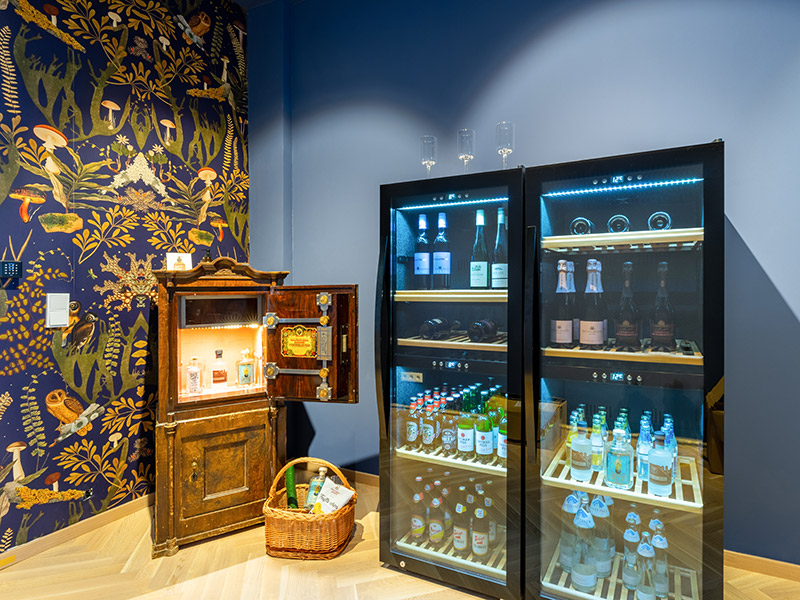 The Little Shop
In our Little Shop you can purchase excellent wines, drinks and exquisite food or just look around. If you need a stronger hair dryer, you can also borrow it here. We are available in the Little Shop for general enquiries and suggestions.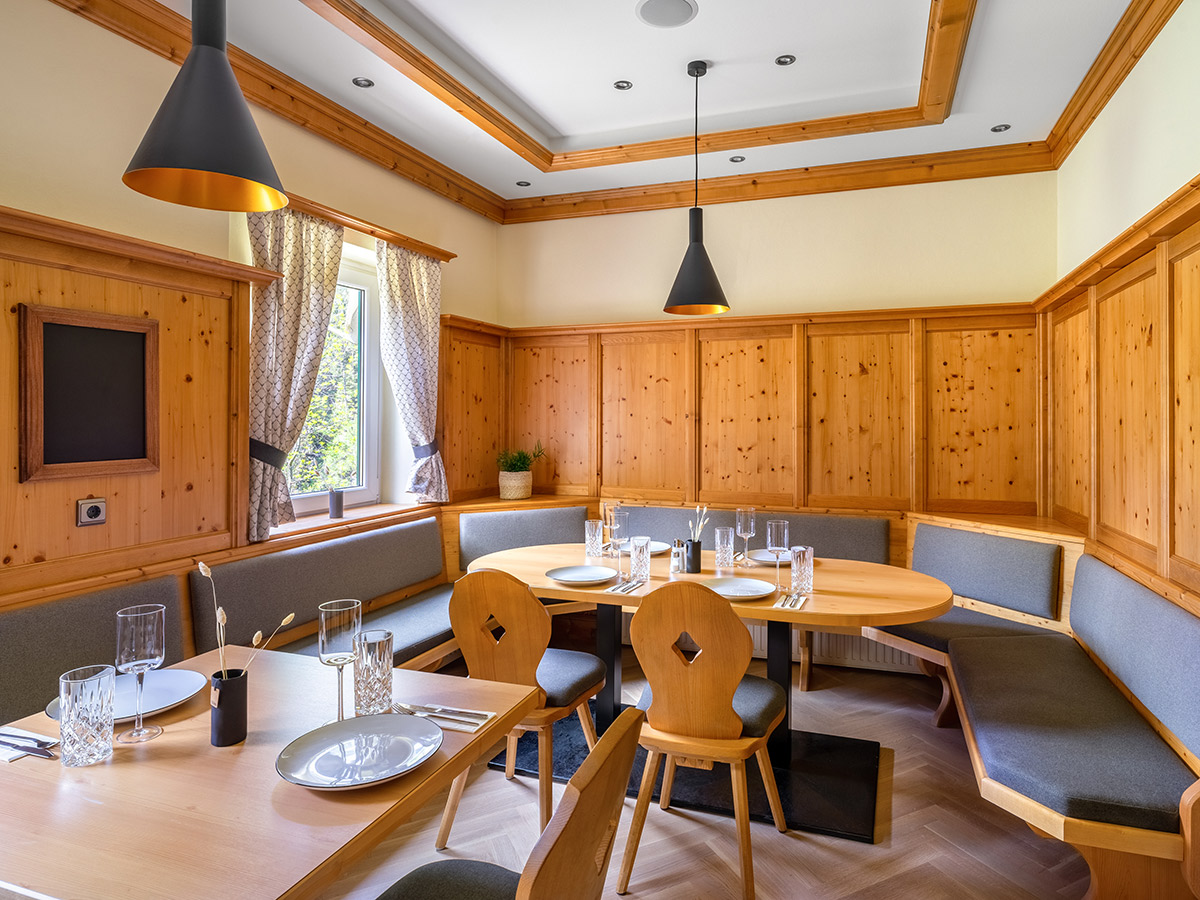 Gute Stube
We serve regional food for breakfast from 7:30 am to 10 am. Afterwards, you can use our Community Kitchen from 5 pm to 9 pm in the Gute Stube. For all those who don't want to go out is a possibility to whip something up by yourself or find something unusual in our collection of excellent recipes. Oils, herbs, spices – everything is there, a few fresh ingredients and off you go! Or simply enjoy what you have brought with you. You can get the drinks in the Little Shop or the Vending Maschine or just enjoy what you have with you.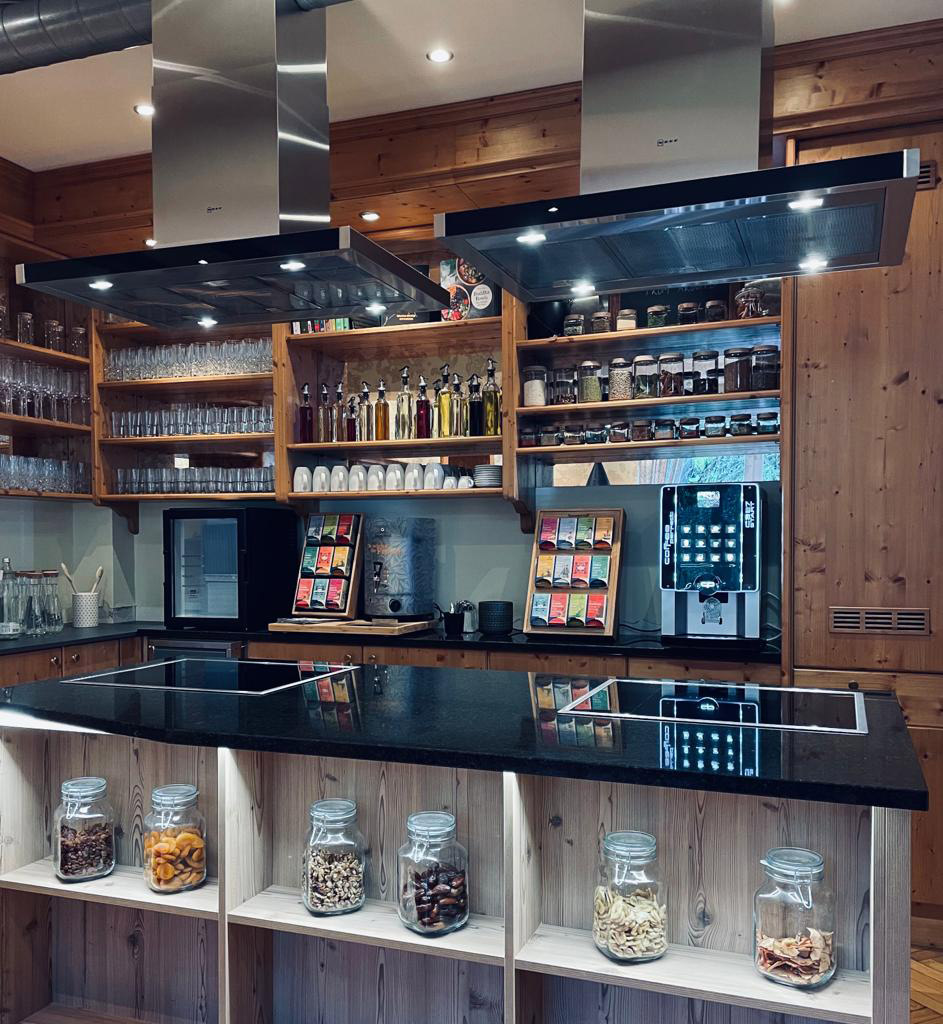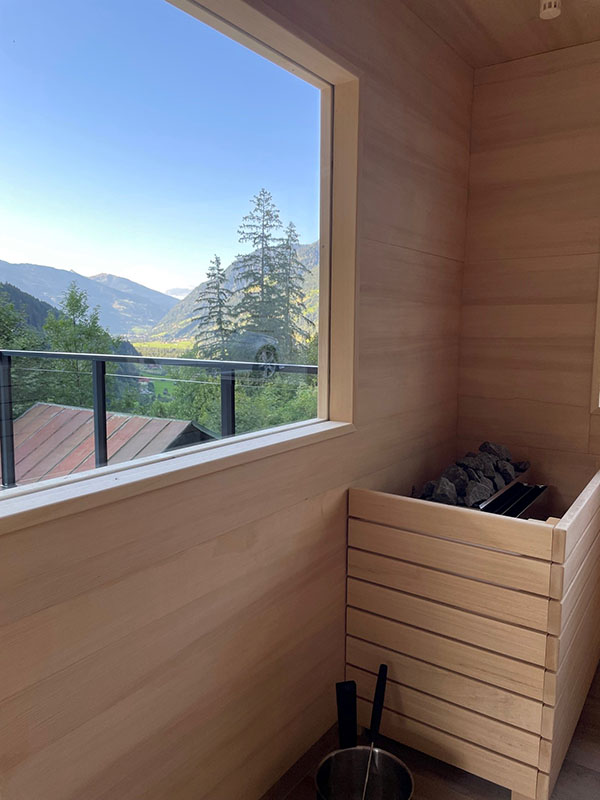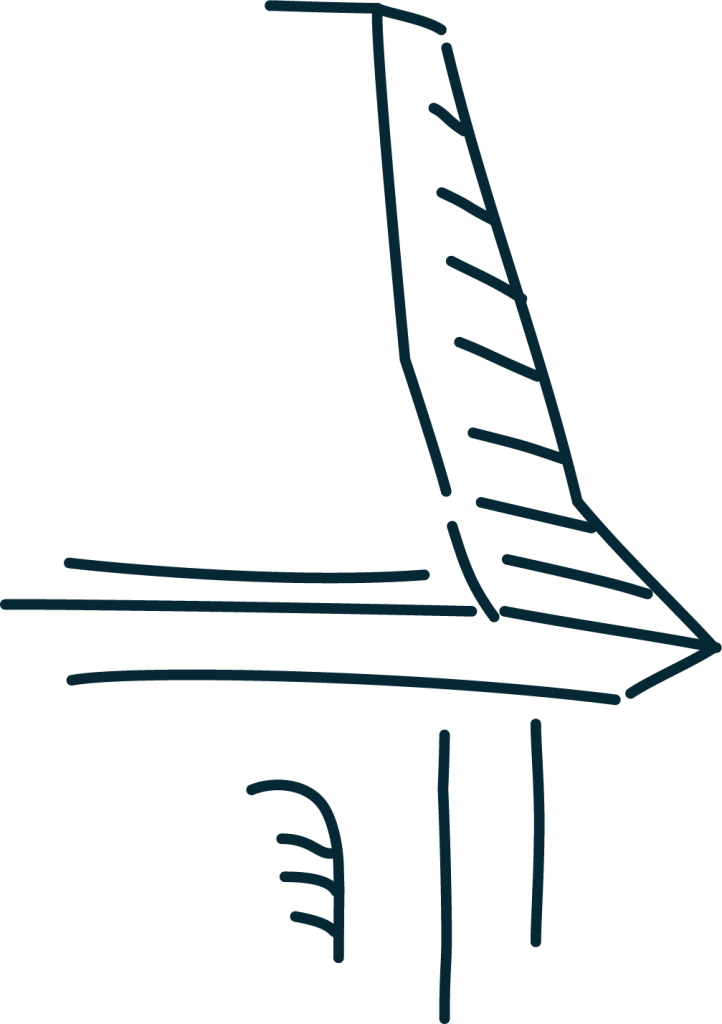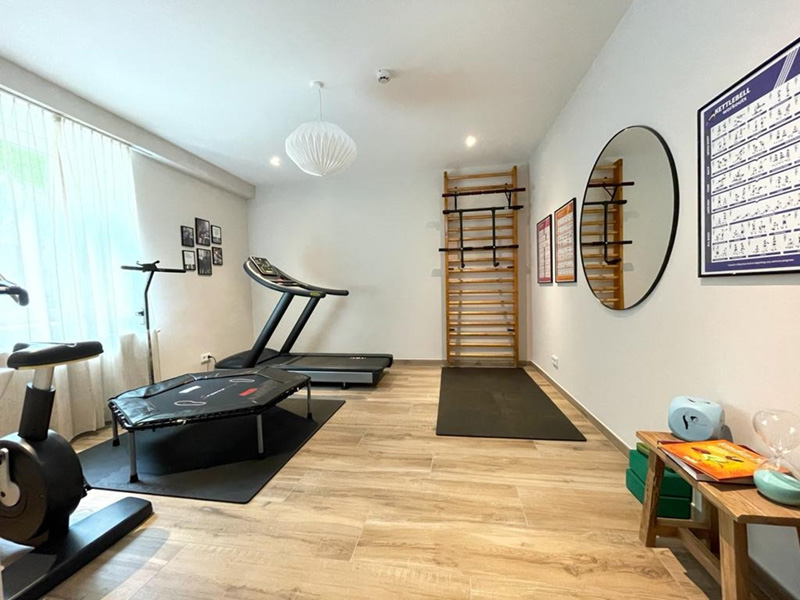 Mini Gym
Our fitness and yoga room Mini Gym is available to you 24h.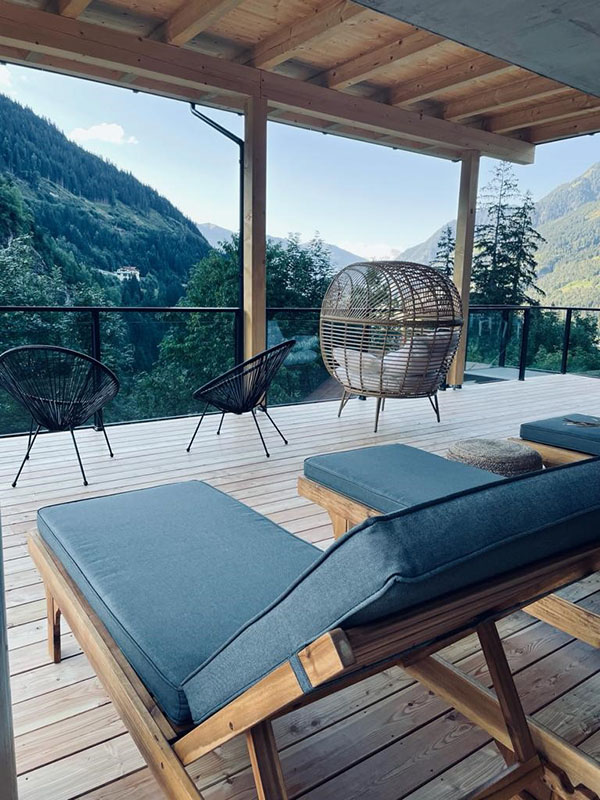 Weitblick Sauna
Relax in Weitblick Sauna after a long day in the marvellous nature with the view of the Gastein Valley – genuine pleasure!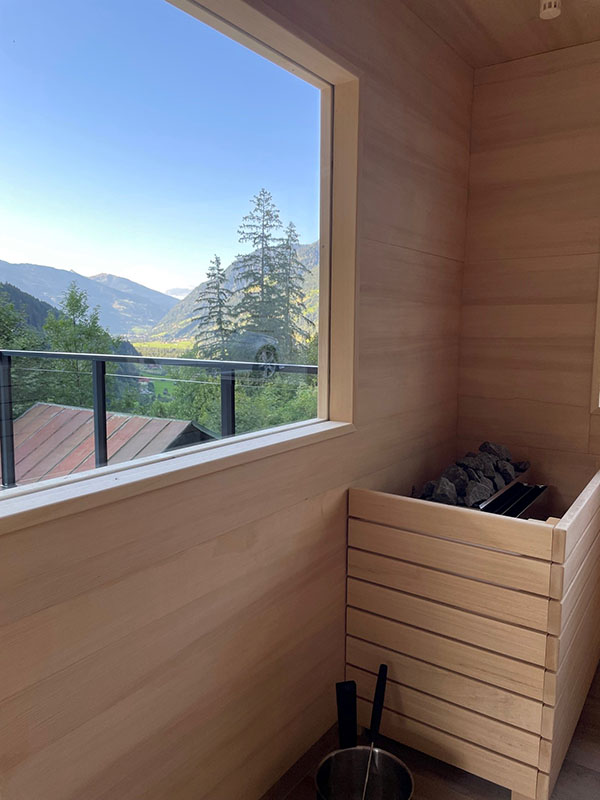 Check In
You can book with us and pay comfortably from home – no queuing at the check in desk or annoying waiting for the bill at the departure. Fill out the registration form at home and you will receive your room number and the code that opens all doors for you, as well as useful information. If there are any questions or you need help – no matter if before arrival or on site – just call us or send an e-mail! We are personally available to you at our reception daily 7 am – 11 am and 17 pm – 22 pm.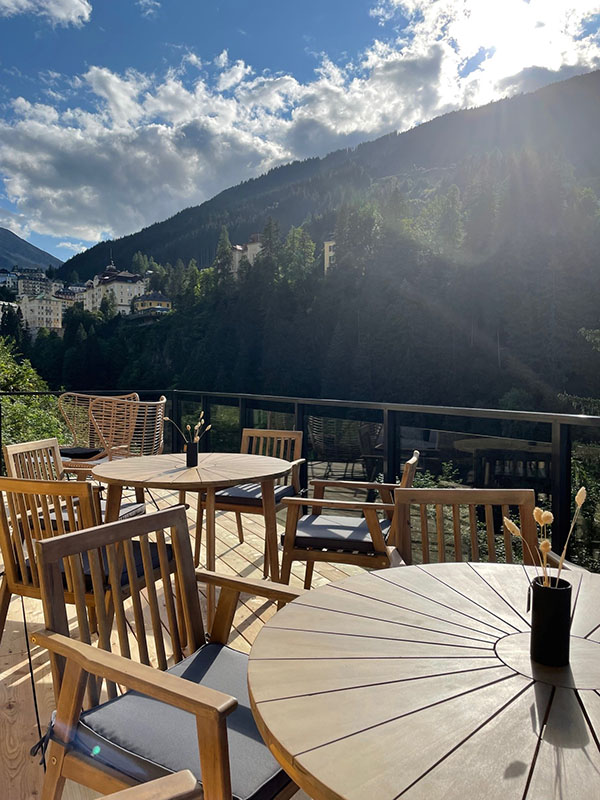 Thermal baths
'Felsentherme Bad Gastein'
Partner company
Take advantage of booking your stay for attractive rates with the Thermal baths' admission included (saisonal) or simply get the tickets directly in the Hotel.
Valid for new direct bookings, stay date btw. 12/05 and 04/11/2023:
One 3h ticket per person/stay including sauna (minimum stay 2 nights).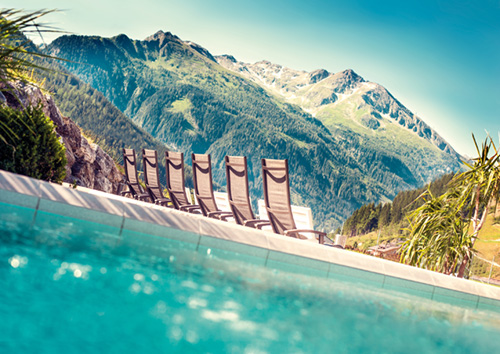 Your sustainable time out
We live and maintain a sustainable lifestyle. It's not perfect yet, but we are constantly developing.
When it comes to food,
we rely mainly on regional and organic products. For example, regional bread and pastries from our village bakery, predominantly regional fruits and vegetables from organic farms and products from certified suppliers. For instance, cereals from VERIVAL, the Tyrolean organic producer. Or organic teas from SONNENTOR. Our mineral water GASTEINER, naturally!
Furthermore,
in the renovation of our beautiful house, we have worked exclusively with regional companies and paid attention to sustainability in the selection, wherever possible, of naturally renewable or recyclable products. Many lampshades in the house, among other fixtures, are made from recyclable or even recycled materials! The lampshades in our lounge are made from natural fabrics by a small factory in St. Johann.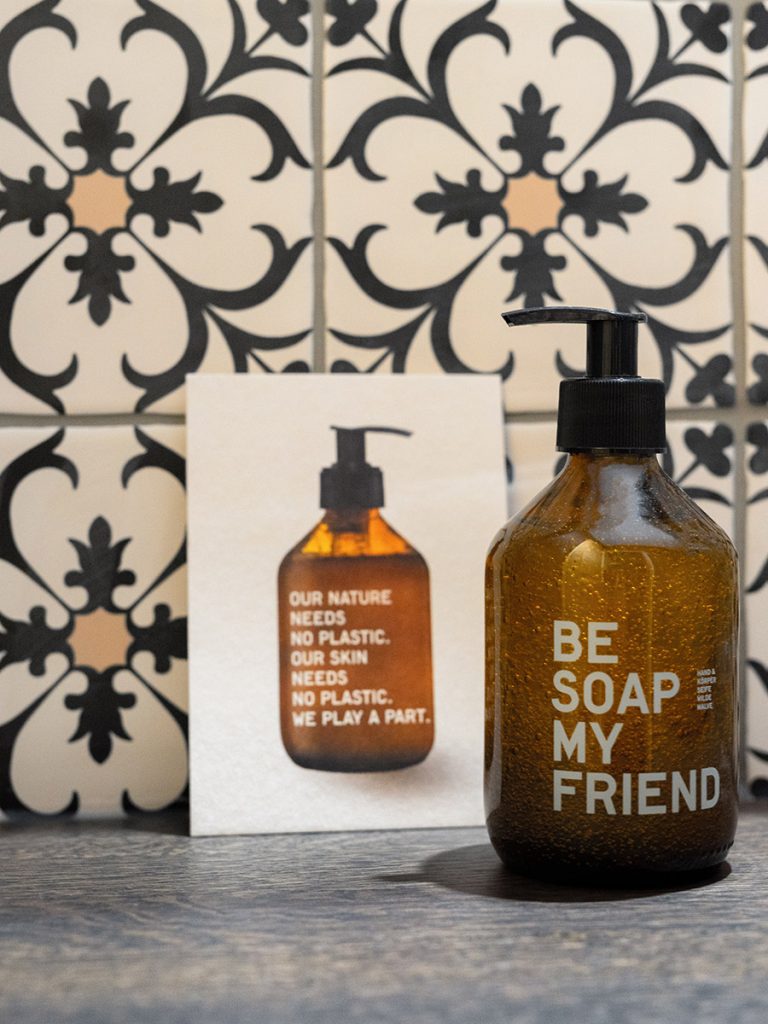 For hygienic items,
we try wherever possible to work with sustainable products. In our bathrooms you will find products from the Salzburg company BE (…) MY FRIEND, which specializes in sustainable, natural and vegan hygiene products that are manufactured with social responsibility.
DAS SCHIDER – BAD GASTEIN
The view.
The region.
The charm.
The moments.
The region – unique and dreamlike – speaks for itself. Relaxing and healing. Bad Gastein is located in the Hohe Tauern National Park at 1000m above sea level. As a health resort, it is world famous for its thermal springs and unique architecture.
In winter – one of the most beautiful skiing areas; wonderful cross-country skiing trails and walking paths, in summer, hiking and enjoying nature, visiting the thermal baths, or bathing in the lake.
Plan your stay from home with the interactive tour map.
Arrival
Enjoyable and stress-free, excellent direct connections by train.
Or by car, free parking is available at the hotel (subject to availability).
Information about your stay DAS SCHIDER – BAD GASTEIN
Bismarckstraße 11
5640 Bad Gastein
E-Mail: nice@dasschider.at
Reservation enquiries, prices and availability:
+43 6434 930 80